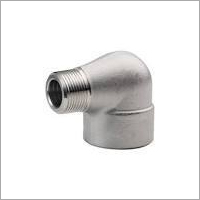 Product Description
Stainless Steel Forged Fittings 304L have robust structural configuration and is provided with CNC threading for ensuring tight & secure fitting. They are widely used in food processing, pulp & paper, paint, & fertilizer formulating industries. These fittings are thermally stable in nature and show excellent resistance to most acids & alkalis. They are known to have smooth & shiny surface finish with long service life. Offered Stainless Steel Forged Fittings 304L are compatible for use with high temperature fluid and corrosive gases without any structural wear & abrasion. They are available in different configurations at competitive rates for our esteemed clients.

Features of Stainless Steel Forged Fittings 304L :
Utilized for providing leakage proof fitting to different machinery.
Resistant to corrosive chemicals as well as physical damage.
Can be accessed in varied specifications to fulfill all the needs of users.
Performs for a satisfactory period of time.