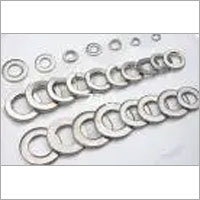 Product Description
SS Fasteners 316
offered by us are completely suitable to be used for commercial, residential, & industrial applications. They are highly appreciated for showing excellent structural & dimensional stability with high durability. These fasteners are considered perfect for use under high & low temperature and corrosive conditions with superior efficiency. They are also provided with galvanized surface finish thus ensures utmost corrosion resistance. These fasteners are required for holding two or more assemblies together in all sorts of conditions.
SS Fasteners 316
assure optimum fastening torque and resist self-loosening due to high impact & vibration. They have been designed using CNC machines thus ensure utmost dimensional & structural precision.
Features of SS Fastners 316:
Galvanized surface for preventing them from damages and corrosion.
Hard boiled structure that keep them functioning for more than expected time frame.
Verified on all sorts of functioning and quality factors.
Provide leakage proof flowing of various gases and fluids.